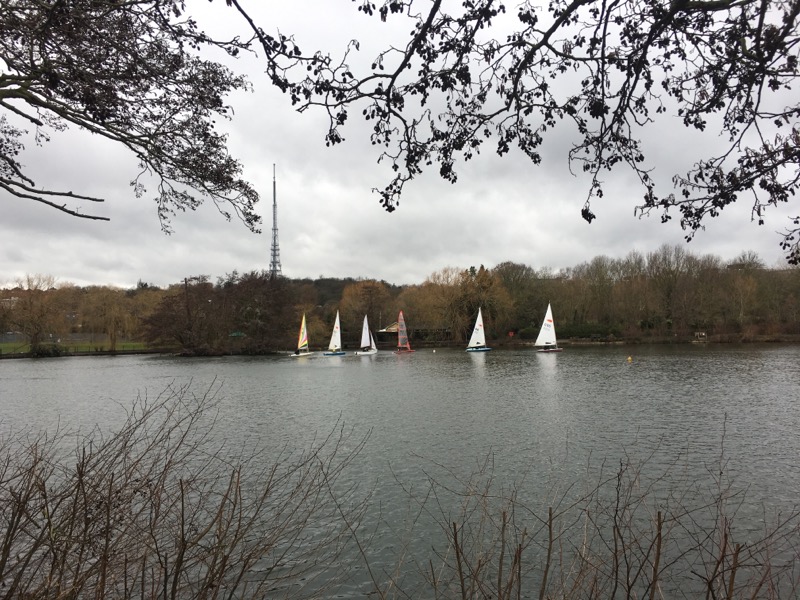 Living up to its name, this year's Icicle Cup was delayed by a week due to the lake freezing over, but it was well worth the wait! Here's the race report from DO Richard:
With blustery weather and winds of 17mph gusting to 26 (mainly NW, but switching to N and W at times to keep racers on their toes), we got off to a slow start as it wasn't clear how many would be racing. In the end 7 for the first race and 8 for the second.
After an epic battle with Ray, the first race was won by Tim, who got a flying start and eventually won by overtaking Ray between Bog and Hermit on the final lap to win, with Steve a steady third and Martin (Pico), Andrew (Byte) and John (sailing the Hartley 10 single handed) making up the chasing pack.
Geoff had an eventful first race, going the wrong way at least once, snagging a fishing line three times (!) and seemingly using Brownian motion to plot his way around the course finishing last.
Dennis (Heron) joined in the second race, with Bog mark switched out for Centre to take account of changes in wind conditions. This time, it looked like Geoff was in for a complete reversal of fortune after a stunning start, but he couldn't hold off Ray, who was able to reel him in to take first place, with Steve once again third and Tim, unable to repeat his earlier performance, leading the chasing pack of John, Andrew, Martin and Dennis.
So, after 2 races with Croydon Yardstick and cup point applied, the results were:
Ray
Tim
Steve
Thank you to Rob and Patrick for helping with ADO duties.