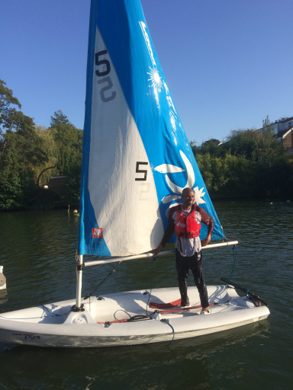 Croydon Sailing Club is an official RYA Training Centre offering a number of opportunities for adult (18+) non-sailors to learn to sail on our official RYA Level 1 courses. Existing sailors can improve their skills on our official RYA Level 2 course and those out of practice sailors can  get back on the water via informal refresher days.
We welcome the confirmation that outdoor sport and recreation will be the first activity after education to be released from lockdown in England. This prioritisation by the Government clearly acknowledges the many positive mental and physical benefits of outdoor sport, as well as its safety and low rates of transmission.                    In the coming days, the RYA will be  issuing guidance  on how clubs can return to boating and  how training can be undertaken within  the detailed Government regulations . Once the guidance is published, the training centre can  give details of its plans for 2021 Season courses. 
In the meantime, CSC plans to update this page  to include a link to an online  booking system,  a section on  frequently asked questions and links to RYA training videos. 
Please note that initially the club  plans  to focus on our  Get Afloat Croydon  Project  offering sailing opportunities  to young persons living in Croydon who have not been able to get outdoors and get active again.   This project offers Taster sailing sessions   for young persons referred to the Centre by community  groups   who are working with families  affected by the pandemic.
We are aware that there is a latent demand from adults who want to learn to sail  and we will endeavour to offer as many courses as possible; however  given the  reduced numbers permitted on courses (6)  and some volunteer instructors not being able to working safely with small groups;  we may not be able meet the demand.  
 If permitted we  aim to run  Start sailing  courses over weekends from at end of April; including May  Bank Holidays  and a link to booking dates will be shown on this page. All teaching will be outdoors supplemented by zoom sessions to cover introduction and theory teaching to reduce the amount of time ashore in group talks. 
Below is a summary of what the club has arranged in previous years .
The cost of a 2 day Level 1 course  is £200 per person which includes: £30 temporary 6 months membership of the club; course hand book and certificates logbook  and  buoyancy aids . Day courses run from 9.30 am to 5.30pm   and the course is undertaken in our training boats comprising of Laser Picos, ( single-hander)  and Hartley 12.2s ( double-hander ) dinghies suitable for our lake size. Temporary membership enables  anyone completing  the Start Sailing Course to  attend  "Go Sailing" on Wednesday  and Friday  Night's; (April to August  after which time  the nights shorten with  dusk around 7:30pm) . Saturday afternoons 2-5pm are reserved for families  but adults can join in early evening. Members who do not have their own boat pay £25 per year to use club boats at these sessions which contributes to the maintenance and insurance of  the fleet of club boats our offer is inclusive of this fee.
The Level 2 course costs  £150 to club members  and priority  for the 12 places  is given to adults who have completed a level 1 course with the club and will probably be arranged for  late summer .
 Follow  up sessions  for those who have completed Level 1 course  can be booked  for Wednesday  and Friday  nights  when instructors attend to offer support  until confidence  is sufficient for  new members  to join in main Go Sailing sessions.   During 2019 a Ladies group was  co-ordinated within Wednesday Night Adult sailing.   When there are not coaching sessions  members run  Go Sailing sessions  by volunteering to take a turn as beachmaster and powerboat helm.  The club aims  to help new sailors progress and get out on the water with other members  and to take up regular sailing.
During Spring,  the club is planning to run  Youth Improvers training alongside  taster half day sessions on Saturdays during May , June and July-  parents will join a rota to support the activities by  remaining on site to help with launching and recovery of boats .