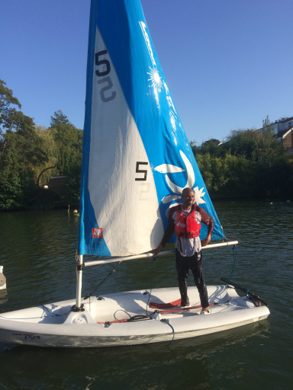 Croydon Sailing Club is an official RYA Training Centre offering a number of opportunities for adult (18+) non-sailors to learn to sail on our official RYA Level 1 courses. Existing sailors can improve their skills on our official RYA Level 2 course and those out of practice sailors can get back on the water via informal refresher days.
The Training centre  also offers 2 -day  youth courses for  beginners (young persons aged 8- 14 years ) at the start of the sailing season during school holidays which enables a young sailor to achieve RYA Stage 1 certificate. Saturday Youth Training sessions are for young persons to continue training towards stage 2 and above certificates. 
The RYA has issued guidance on RYA Training Centre organised training within the detailed Government regulations. We  take bookings for our adult  and youth beginner RYA Courses via this booking site :     https://bookwhen.com/croydonsailingclub 
2022 Courses Update:
YOUTH AND ADULT BEGINNER COURSES NOW  FULLY BOOKED . AT PRESENT WE ARE NOT ABLE TO INDICATE WHEN ANOTHER COURSE CAN BE ARRANGED FOR SUMMER DUE TO HIGH DEMAND AND BEING RELIANT ON VOLUNTEER INSTRUCTORS. YOU CAN EMAIL THE SECRETARY TO BE ASKED TO BE ADDED TO EMAIL ALERTS WHEN FUTURE COURSES ARE AVAILBLE AND CAN BE BOOKED 
Our youth training for beginners started in earnest in 2021 with 75 children taking RYA Stage 1 and we had courses over Easter 2022 that were fully booked.  In next few months we are concentrating on consolidating  training for the youths  and adults who have just learnt to sail  so they can move up to become  independent sailors .  All this is done without  staff but volunteer members. Demand is high and availability on the lake limited by  weather, water temperature , daylight and out of school / work hours . Members race on Sundays .  So for the time being we are not able to offer any youth  or adult beginner training until the summer holidays . Saturdays are fully booked with improver sailing and new adult members practising  on wednesday nights as well. Kayaking is only available to scout groups at present . Since covid,  demand for outdoor activities exceeds supply . We have plans to develop watersports  further on South Norwood Lake depending how much the club members can sustain . Hence we keep a list of enquirers and send email alerts when next booking is open for beginners – you can email secreatry@croydonsailingclub.co.uk to be added to the list.  You can  also look at commercial centres such as Wimbledon Lake( Merton Council);  Aqua Sports  based in  Merstram , Surrey Quays and Docklands centres in London.  
  ADULTS 
We  will endeavour to offer as many courses as possible; however all courses are run by instructors who volunteer their spare time to training others to learn to sail .   We teach in groups of 6 adults to one  instructor in laser picos which are suitable for sailing alone  and also we teach in Hartley12 training dinghies which can accommodate 2 students and are most suited to adults who are 70kg plus in size. Sailing is an active sport and participants are expected to have a full range of movement such as squatting, kneeling and reaching behind the back. 
We plan to run 3 types of Start Sailing course: regular Wednesday night sessions over 5 weeks and a zoom meeting  OR  2 day courses over weekends.
  For dates see   booking site link  
All teaching will be outdoors supplemented by zoom sessions to cover introduction briefing.  The course will be adapted to weather and wind conditions and will only be  cancelled or re-scheduled in the event of severe wind or rain and should there be less than 3 participants. 
The cost of a 2 day Level 1 course  is £200 per person which includes: £55 temporary 6 months membership of the club; course hand book and certificates logbook and buoyancy aids. Day courses run from 9.30 am to 5.30pm .  Temporary membership enables anyone completing the Start Sailing Course to attend  "Go Sailing" on Wednesday  and  Saturday twilight 4-6pm popular with families and adults. Members who do not have their own boat pay £25 per year to use club boats at these sessions which contributes to the maintenance and insurance of the fleet of club boats; our offer is inclusive of this fee.
The Level 2 course costs £150 to club members and priority for the 12 places is given to adults who have completed a level 1 course with the club and will  be arranged for late summer .
The club aims to help new sailors progress and get out on the water with other members and to take up regular sailing.
YOUTH SAILING
During  Easter school holidays Spring 2022, the club is  running Youth  Beginner courses which are over 2 consecutive days . RYA Stage one certificate syllabus is delivered  and fees  £80 include  a logbook to record progress.  Learning to sail is conducted by instructors in a ratio 6 students to one instructor in laser picos and topper dinghies. Improvers training  on Saturdays starts in April for young persons who have completed stage 1 and above. It can  be attended at either Saturday morning or afternoon sessions, cost is £10 per session from early May and are bookable through https://bookwhen.com/croydonsailingclub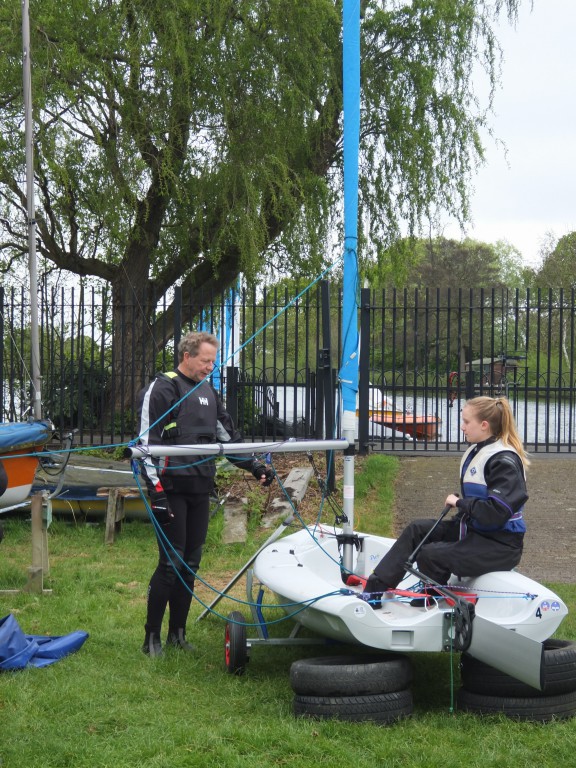 Frequently Asked Questions and links to RYA training videos
Do I need to be a competent swimmer ? No but confidence being in water is needed so that falling in the water does not trigger a panic attack. All students and sailors must wear a fitted buoyancy aid which keeps the upper body above water so a person can breathe freely as their face is above water level. Instructors patrol close by in power boats to collect anyone in the water and support then getting back into their dinghy or wishing to return to shore to change into dry clothes. Those wearing wetsuits can continue sailing without getting cold.
Do I need to buy special clothing ? No , use your own clothing such as jogging pants or leggings that will keep you warm, shorts can we worn in warmer months. A long sleeved t-shirt keeps arms warm and protects from sunburn whilst a fleece provides warmth. A hat and gloves are advisable for cold wet and windy days.
What shoes do you need to wear ? Shoes are likely to get wet as water does accumulate in the boat so canvas shoes, old trainers and wetsuit beach shoes are suitable. \We do have a selection of dinghy sailing boots that students can use also. Flip flops and crocks do not provide suitable grip.
I am not sure if I am fit enough to go sailing how do I find out what is expected ? You need to be able to bend freely at the knees and turn upper body and arms behind your back. We expect an average level of fitness so that each student can manoeuvre their body in a small space and maintain balance in the boat . You can discuss any physical difficulties you think you may find challenging with The Training Centre Principal prior to booking a course; contact 07913808969
What else do I need to bring ? Lunch and cold drinks/ water, we can provide tea, coffee etc. A set of spare clothes, towels and shower gel .
Is there parking ? Yes its free in residential streets at park entrance in Avenue Road.
Can I cancel my booking and get a refund ? We need a minimum of 3 students to make a course worthwhile and will know booking numbers well in advance so we expect for all course participants benefit that any cancellations will be due to unforeseen circumstances such as becoming ill, having contact with covid in your household, a family emergency. In these circumstances if we can not reschedule your booking the club will arrange a refund less Stripe payment fee ( 1.5% charge ).
Do parents stay for youth training ? No. Our courses are run by instructors and assistants who have been DBS checked so parents do not need to stay for youth training. We expect parents to bring their children at the start of a course and introduce themselves and discuss any matters , checking medical forms are completed, lunch and clothing provided and arrangements for collection at the end of session before leaving the site.
Link to RYA OnBoard Video – On Board teamwork https://www.youtube.com/watch?v=q9XnRC2I1U8&list=PLH7BNtsU5LQBj2UCbOXOhOLNUsAE1IGZe&index=3
RYA Video : start Sailing https://www.youtube.com/watch?v=EfJIu_moZaE&list=RDCMUChy5dW4S_x8XOnoXyeLQLXQ&index=1