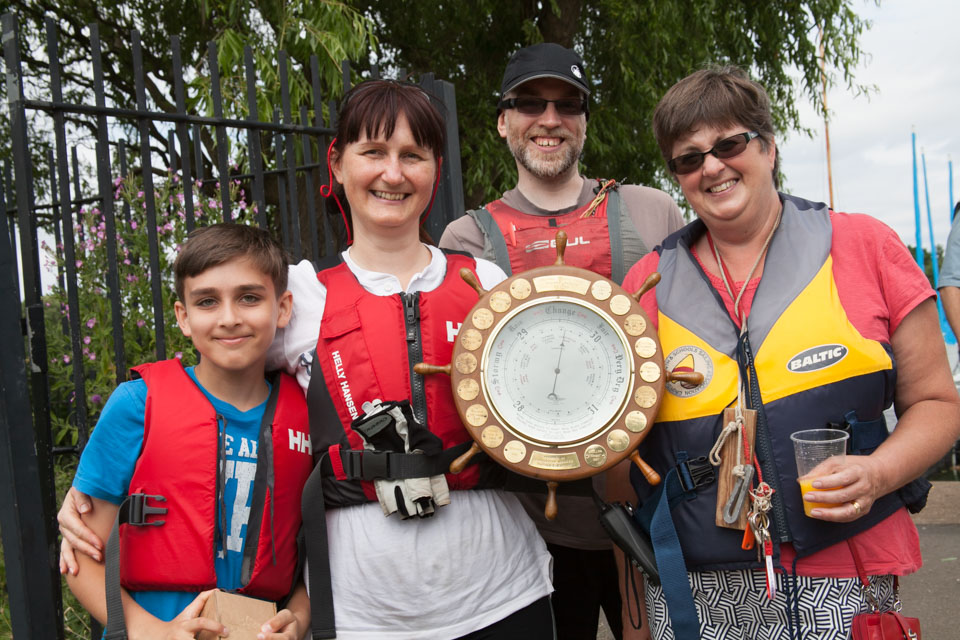 With this year's Mid-Summer Regatta seeing the introduction of three new events, there had been a lot of excitement leading up to one of the biggest events on CSC's Summer calendar, and I think everyone that took part would agree that it was well worth the wait.
The double hander race saw 8 two-person crews take to the lake in a mixture of Comet Duo, Enterprise, Heron and Firebird dinghies, and after 5 closely contested laps Robert and Dirk showed that they had almost telepathic team-working skills, sailing the club Firebird into first place.
The second race saw seven Comets competing in our first official Comet class race. The first few laps saw several members vying for first place, but as the race continued, Valeria broke away from the pack and never looked back, taking a well deserved win.
After lunch (a big thanks to everyone that donated something!) more of our novice and family members had arrived ready to join the festivities and it was time for CSC's inaugural Pico Tag race. With 6 teams of 3 selected and tactics decided, the horn blew the first members were off! Two legs complete, there was still everything to play for as Dirk arrived back at the Jetty for Team 3, followed just a few boat lengths later by Arthur for Team 2, but despite his best efforts, Neil just couldn't quite catch Valeria, and all Team 2 could do was watch as she placed her hand on the Jetty, securing first place for Team 3.
And with novice and family events continuing well into the evening, a fantastic day had by all.
A massive thanks to Kathy and Ian for agreeing to be our DO and ADO for the day.
Top 3
| # | Name | Double | Comet | Pico Tag |
| --- | --- | --- | --- | --- |
| 1 | Valeria | 5 | 1 | 1 |
| 2 | Robert | 1 | 3 | 3 |
| 3 | Dirk | 1 | 6 | 1 |
Photos
A big thanks to Phil for the photos!
See us in action!
Photos not enough for you? Check out the GoPro footage Paul put together for us: